About us
Corporate Profile | Vision & Mission | Our Strength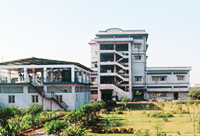 The US$ 150 million Ahmedabad based Meghmani group began modestly in the year 1977. It was in this year that Mr. Ashish Soparkar and Mr. Jayanti Patel together promoted Ashish Chemicals to manufacture Direct Turquoise Blue along with Reactive Turquoise Blue. Today the Meghmani group has 12 plants spread over 370,000 square meters of land and is equipped with the latest machinery to manufacture a wide range of dyestuffs, pigment powders, dye intermediates and agrochemicals.

Extensive investments in R & D have enabled Meghmami group to establish a' prominent presence in the manufacture of pigments and dye stuff as well as basic crop protection chemicals. Maintaining international standard in product quality has ensured customer satisfaction reflected in repeated orders from existing clients in 30 countries.

As a diligent corporate citizen the Meghmani group has responded well to its responsibilities towards the society. It has a sound environmental protection policy which includes environmental monitoring mechanisms like periodic environment audits by internationally reputed agencies.
Inception : 1977
Location : Ahmedabad
Turn Over : US$ 150 Million
Plants : 12 – Multi located
Total Area : 3,70,000 sq. meter
Product Range : Dyestuffs, Pigments, Agro Chemicals, Optical Brighteners & Intermediates.
Founder Member : Mr. Jayanti Patel , Mr. Ashish Soparkar & Mr. Natu Patel.
Objectives :
100% customer satisfaction, Extensive R & D, Strict Quality Control, Sound Environment Policy
International Recognition / Global Brand Image.

Result : Repeat buying by customers